"My son is literally obsessed" - Megan ⭐⭐⭐⭐⭐
The twinkling lights shining in the night sky transfix us all. Our GALACTIC NIGHT™ Projectors utilise state-of-the-art laser technology to create soothing aurora effects and swirling stars in your home and other treasured spaces that create and relaxing environment within any room. 
Transform Your Room Into a Galactic Wonderland
Our GALACTIC NIGHT™ Projectors are the perfect go-to accessory for snuggling up on the couch under the stars for a day-long Netflix binge, gazing at the stars as you read your favourite book, or just relaxing under the stars on a lazy weekend. Be careful, once you turn it on, you'll never want to switch it off!
Relax Your Soul: NDIS Approved Anxiety-Relief Tool
Claimable under the NDIS as a sensory device, the serene nebulas and swirling stars create a calming atmosphere that brings comfort and reassurance to both children and adults, promoting a sense of safety and tranquility. Watch as young ones to unwind and peacefully journey into a deep and blissful slumber.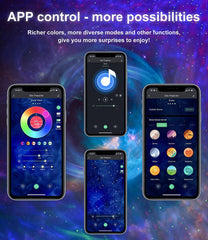 App & Voice Control (Google & Alexa)
Download "Smart Life" APP available in the App Store and take full control of the Galaxy Projector 3.0! In addition, you can also adjust the mode at will by calling Google Assistant / Alexa through voice control. Furthermore, the remote control is easy to operate and very convenient for children!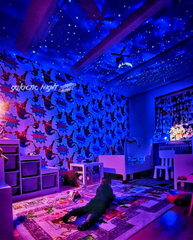 Illuminate Their Life: Gift the Galaxy
Our GALACTIC NIGHT™ Starry Projectors make the perfect gift for kids and adults alike. They're perfect for stargazers, dreamers, and anyone who could use a little extra magic in their life!
You're Covered By Our 110% RISK-FREE Guarantee! 💯
Our #1 priority here is your happiness. If you don't fall in love with your Projector within 90 days, we will REFUND YOU 110% OF YOUR PURCHASE PRICE - no questions asked!
Some Special Features Include:
Don't take our word for it, see what our customers had to say! 💕


10,000+ Happy Aussie Stargazers (and Counting!) 🚀
"I received the projector today, on time and it's amazing. My girlfriend loves it for our date nights. For the price this can't be beaten, I'm seriously tempted to get her one for every room. Thanks guys!

⭐⭐⭐⭐⭐

James Burkitt, Newcastle 🇦🇺
"A big thank you to the whole Galactic Night team! My brother is obsessed with his new light. Birthday present game 10/10!"

⭐⭐⭐⭐⭐

Sarah Mcleoud, Perth 🇦🇺
"The galaxy lamp looks amazing in my room! Who knew a light could be so much fun! ... Pro tip: try placing candles or other warm, soft light near the wall and centre the projector on it. Creates some very pretty magenta and purple colours, and it looks even more like a nebula!"

⭐⭐⭐⭐⭐

Amanda Johnson, Gold Coast 🇦🇺
"Highly recommend if you need a night light! Got as a gift for my sister, and I ended up buying one too haha! Will buy again"

⭐⭐⭐⭐⭐

Damien Burrows, Gladstone 🇦🇺
"This projector exceeded our expectations! It's soothing and mesmerising to watch! Me and my boyfriend love using it for movie nights"

⭐⭐⭐⭐⭐

Jessica Wylie, Adelaide 🇦🇺
"I love it so much! So much colour!! It lights up the whole room and has so many options! It's not too bright, I sleep with it on every night. It would be the perfect addition to a kids room!"

⭐⭐⭐⭐⭐

Eliza Kerrison, Rockhampton 🇦🇺
"I've owned a few star projectors over the years, but this one has been the best so far. The projection is very bright and covers the entire ceiling. Bluetooth connects quick and easily. Also love how your music syncs with the lights. I would recommend"

⭐⭐⭐⭐⭐

Rhiannon Westoff, Geelong 🇦🇺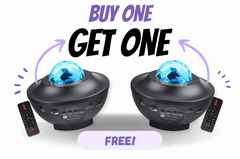 ⚡ Buy 1, Get 1 Free ⚡
This is your last chance to grab a FREE GALACTIC NIGHT PROJECTOR 2.0 (valued at $79.95!) before Christmas - Extended until Midnight!
Why Choose Us? 🇦🇺
We are a 100% Australian Family Owned & Operated company based in the heart of Sydney ... We recognise our long-term success hinges on one factor ... Your Happiness Is Our #1 Priority ... If you have a problem we'll solve it. Refund it. Replace it. Exchange it. Whatever it takes. Happiness Guaranteed.